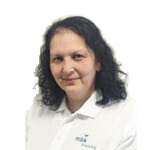 Charmaine Leach has worked in the childcare field for 29 years. Charmaine started as a volunteer and quickly learned that working with children was a rewarding job which she thoroughly enjoyed and has continued through the field up to a strategic management level. Charmaine has completed a Foundation Degree in Early Years, a Level 5 in Management and a Level 3 in Education and Training. Charmaine has worked within a management role for over 15 years and also enjoy leading a team of people as passionate about children as she is. Having worked in childcare settings at every level Charmaine has an understanding of the day to day practices and issues that may arise.
Charmaine is passionate about training in the Early Years and believes that in order to have the best outcomes for our children we need to have a knowledgeable staff team. Charmaine has a wealth of knowledge and experience which she can share with others.
Charmaine is always willing to learn new things and take part in learning and development in order to gain new skills and knowledge and keep up to date with developments within the sector which can be passed on to others.