Deborah Somerset NNEB, PGCE in Lifelong Learning, Cert in Advanced Child Protection, Advanced Prof Diploma in Mentoring, Accredited MHFA
Safeguarding and MHFA Specialist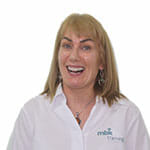 Deborah is a new addition to the MBK Training team. She has a wealth of experience in working directly with children and young people. Deborah has been a Learning Mentor in school, Residential Social Worker in a Secure Unit and Bail and Remand Support Officer in a Youth Offending Team. She has also worked for both a Local Authority as an Anti-Bullying Support Officer and a national charity, as a Safeguarding Children Training Coordinator.
For the past 15 years, Deborah has been designing and delivering safeguarding children and adult at risk training and consultancy. She has worked locally, nationally and internationally, with many large organisations and children`s charities. Deborah thrives on the challenge of making training both relevant and interesting to attend. She likes to think of it as communicating serious messages, using fun methods!
Continuous professional development is hugely important to Deborah and she has recently been awarded a Post Graduate Certificate in Advanced Child Protection, from the Centre for Child Protection, at the University of Kent.
She is also hugely excited to shortly qualify as an accredited Mental Health First Aid (MHFA) (Adults) Instructor. This will allow Deborah to further support organisations by delivering the 2 day MHFA Champions course. She passionately believes an organisation's most important resource is its staff and keeping them mentally well is crucial.
Deborah trains on a voluntary basis for Sheffield Safeguarding Adult Board and offers e-mail and telephone support to clients, on behalf of Breast Cancer Care.