This First Aid at Work training course is aimed at all workplaces in order to meet the First Aid requirements as set out by the HSE, it leads to obtaining a current First Aid at Work qualification.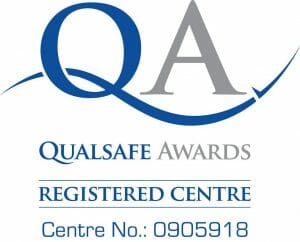 Our popular First Aid training course will ensure your workplace stays compliant with the HSE guidance that adequate and appropriate equipment, facilities and personnel are present to ensure your employees receive immediate attention if they are injured or take ill at work.  If you are unsure what your workplace requires to stay compliant, then this document from the HSE should provide all the guidance you need.  Alternatively, we may be able to answer your questions if you get in touch.
All our First Aid training is accredited by Qualsafe, an Ofqual registered company, to ensure we meet the specific requirements that the training must cover based on existing good practice guidance. From September 2014 our courses are validated as RQF Level 3.
In accordance with the H&S (First-Aid) Regulations 1981, our First Aid at Work training course covers the following topics:
roles and responsibilities of a first aider;
cross infection;
recording incidents & actions;
use of available equipment;
assessing an incident;
unconscious casualties (including seizures);
cardio pulmonary resuscitation;
Safe use of an Automated External Defibrillator;
choking;
wounds and bleeding;
shock;
minor injuries (including small cuts, grazes and bruises, minor burns and scalds, and small splinters)
secondary survey;
injuries to bones, joints and muscles (including spinal injuries);
suspected head and spinal injuries;
chest injuries;
burns and scalds;
eye injuries;
sudden poisoning;
anaphylaxis;
major illnesses (heart attack, stroke, epilepsy, asthma & diabetes);
serious bleeding including:
embedded objects;
sucking chest wound;
amputations;
There is a maximum of 12 delegates allowed for this course.
Course length: 18 hours with flexible delivery over a maximum of 6 weeks
We are currently delivering our courses via Zoom Live for 2 of the sessions and face to face for 2 sessions in a Covid secure environment. We use many different methods to make sure courses are as interactive as possible and do expect delegates to have cameras on and sound on when required. We also request that you take part in the feedback on our courses in order that we can improve our services every time. We provide individual certificates for all of our courses.
Once you have booked this course then we will be in touch to organise a suitable date to deliver. To discuss this further then please either call us on 01527 452430, or Contact Us and we will get back to you.
For more detailed information about booking training courses see our Training FAQ's