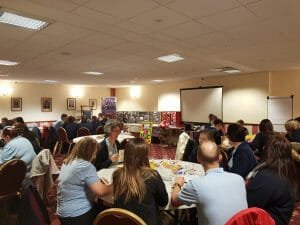 We're often asked if we can pinpoint the benefits of CPD so we have put together some of our thoughts on the key principles and benefits of CPD…
Individuals and settings should be committed to improve and learn
CPD or continuous professional development is both an individual responsibility and a responsibility of the employer. Every early years practitioner has a responsibility to maintain a sufficiently high standard of professional competence and to be current in their knowledge and skill base in order to provide the best care for young children. Every setting should commit to the on-going efforts to upgrade its practitioners, and this is something that Ofsted will be expecting to see during Inspection time.
CPD opportunities include both formal and informal training and development activities
Continuing professional development opportunities should be relevant to the educator's work and responsibilities and every practitioner should be able to participate in continuing professional development.  But that doesn't always mean paying for training, dedicate some time in staff meetings and supervisions to professional development, or set up some time for staff to shadow each other.  After all, every little helps!
The Benefits of CPD For the Owner / Manager
Or 'Why should I invest in my team?'
Spread over the year, the cost of training isn't that much, it could be less than the cost of buying each staff member a cup of coffee each month.  You can never be sure which aspect of training will produce the best results but something is better than nothing and your input can make the difference in creating:
Happier children and parents
An efficient, smooth running nursery
A self-sufficient, empowered team that works well together
Improved staff attendance levels
Staff who take responsibility / ownership and who are accountable
Consistent, competent staff
An improved Ofsted outcome
The Benefits of CPD for the Practitioner
Or 'Why is this continuous professional development important to me?'
Even though some practitioners would probably rather spend two hours doing something else, you'd be hard pushed to find something that can give you these benefits in such a short time:
Happier children and less behavioural issues
Higher self esteem
Respect from your colleagues
An improved Ofsted outcome for your setting
Being more employable
Higher earning potential
Where do I start?
It's important not to just think that any training will make a difference. So don't rush in. If it's not relevant it's a waste of your money and your staff's time.  It will also have a negative effect and no one wants that.
So, set out a plan for what you want to achieve with the training and an idea of how much you would like to spend. Talk to us so we can help you work out a plan of action to get you where you want to be!