Characteristics of Effective Learning are one of the most difficult things for practitioners to remember – we know this as we often ask ours to recall them and for the most part they remember about half of them. So, in order to support their knowledge and understanding of the Characteristics we have professionally designed and printed a full set of these and added in some useful hints and tips in ways in which adults can support these and what they can observe.  These cards are manufactured using, NeverTear a strong durable material, which is both tear and water resistant – making them perfect for early years settings, where we know things get messy!
The pack consists of 9 cards printed front and back. These come supplied with a detachable ring and a lanyard.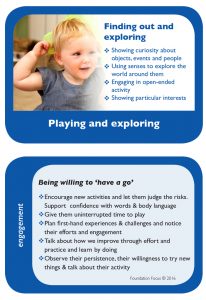 Fronts of the cards detail each characteristic and the statements from the EYFS.
Reverse of the cards detail ways in which adults can provide for and support each characteristic through creating the right environment or just simply giving children time to pursue activities.
Observing is often difficult also so we have included what to observe in each characteristic and this can feed into children's learning journals and ensuring practitioners are considering the characteristics within children's next steps by creating the right opportunities for them to experience these