Understanding Schemas in children is a key element to providing the right opportunities for their learning.  These cards are manufactured using, NeverTear a strong durable material, which is both tear and water resistant – making them perfect for early years settings, where we know things get messy!
The pack consists of 11 cards printed front and back. These come supplied with a detachable ring and a lanyard.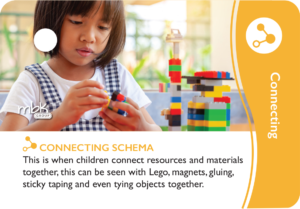 Fronts of the cards detail each Schema and outline what this looks like
Reverse of the cards detail resources you can provide to support the schema and the language opportunities that you can introduce for children, along with what the schema looks like in children.