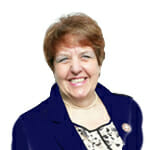 We are pleased to welcome Lorraine Petersen, OBE to our team here at MBK. Lorraine has 25 years of experience in the mainstream school environment as a teacher and Head Teacher. From 2004 – 2013 Lorraine was CEO of NASEN, a charitable organisation supporting all those who work with children and young people with special educational needs and disabilities.
As a result, Lorraine has many years experience of working with pupils with an array of special and additional needs and the teachers, SENCOs and support staff that work with them.
During her time as CEO of  NASEN, Lorraine worked on a number of projects with various agencies including the Department for Education, the National College of Teaching and Leadership (formally the Teaching Agency) and UKTI. She has been a chair, keynote speaker and workshop facilitator at many national and international events and conferences (that as well as a consultant for a number of national organisations.
Lorraine's accolades and achievements include:
In 2009 awarded an OBE for her services to education.
In 2010 awarded the Outstanding Achievement Award at the Education Research Awards.
In 2013 the Outstanding Achievement Award at BETT.
In 2015 successful completion of the IPSEA SEN Foundation Legal Training and is appointed as an Associate Lecturer at the University of Worcester.
In 2016 became an Advocate of the Chartered College of Teaching.
Qualified Youth Mental Health First Aid Instructor and a Healing Together Facilitator.
Lorraine is currently Director of Chadsgrove Teaching School Alliance and Chair of Governors at Chadsgrove School and a Governor at Lokrum Fields, a newly opened Independent Special School.
Lorraine works independently, delivering training for herself and others and supporting schools and local authorities with their SEND policy and practice.
Lorraine will support our delivery of a range of courses for MBK, including Safeguarding, SEND and MHFA.